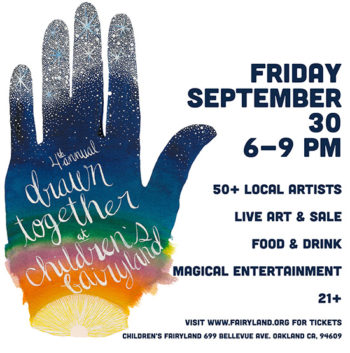 Children's Fairyland in Oakland presents the 4th Annual Drawn Together, an adults-only evening (21 and over) of live art-making, fixed-price art sale, music, food, and fun at Children's Fairyland. More than 50 exciting artists from Oakland and the Bay Area, including myself, will create over 100 pieces of original Fairyland-inspired art that will be sold for $40 per piece; proceeds will help Fairyland keep admissions low for all and free for those most in need, as well as funding park restoration. Complimentary beer and wine included with ticket price; food available for purchase. The Hanged Man will be on hand to look into your future with a tarot or palm reading, and Very Fairy to add glittery extensions to your hair.
Event starts at 6 pm and drawings made go up for sale at 8 pm.
Space is limited, so get your tickets while they last and support a great cause! Thanks to FLAX art & design for in-kind support of this event!
Children's Fairyland
699 Bellevue Ave
Oakland, CA 94610