Seeds of Hope: A Project in Support of Immigrants
Sharing Our dreams for the Future
This is a performative art installation in which the wishes, hope, dreams and aspirations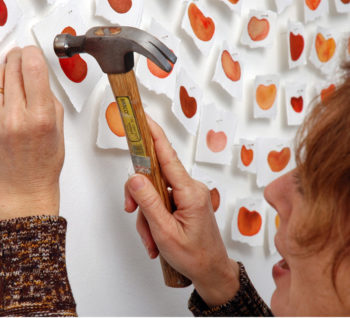 of immigrants and Americans of the past and present are united and amplified in a secular prayer action. Each person is represented by a small painting of a seed. As each seed is pinned to the gallery wall, the personal intention of the person represented is spoken out loud.
Over the course of the installation, hundreds of individuals and their hopes and dreams are represented in a wave like formation. One wave will represent those who have been established in the United States for one or more generations and the other represents newcomers. Each painted seed represents our nascent potential for contribution to the country in the fulfilling of our own dreams. New immigrants and those whose families have been here will be interwoven into one integrated whole.
We are interested in YOUR personal dreams and hopes. If you could have someone pray for your dreams or wishes to come true what would your most simple request be? All responses will be kept anonymous, unless you share a name.
JOIN US FOR THE EVENT!
Wednesday, April 19, 2017 6:00 – 8:00 pm
The Laundry SF
3359 26th Street
San Francisco California 94110
This community based installation project is part of the 100 Days Action.
PLEASE SHARE THIS SURVEY on facebook, twitter, email.

Please contact Michele at
michele@micheletheberge.com
if you would like to assist with the project. We are looking for photographers, videographers, video editors, writers, people to help at both events. Or if you have another idea of how you would like to contribute, let us know!
To learn more about the lead artist, you can go to micheletheberge.com. If you are not sure what the heck this is or your just curious, you can watch this short video of a similar project called Seed Piece.