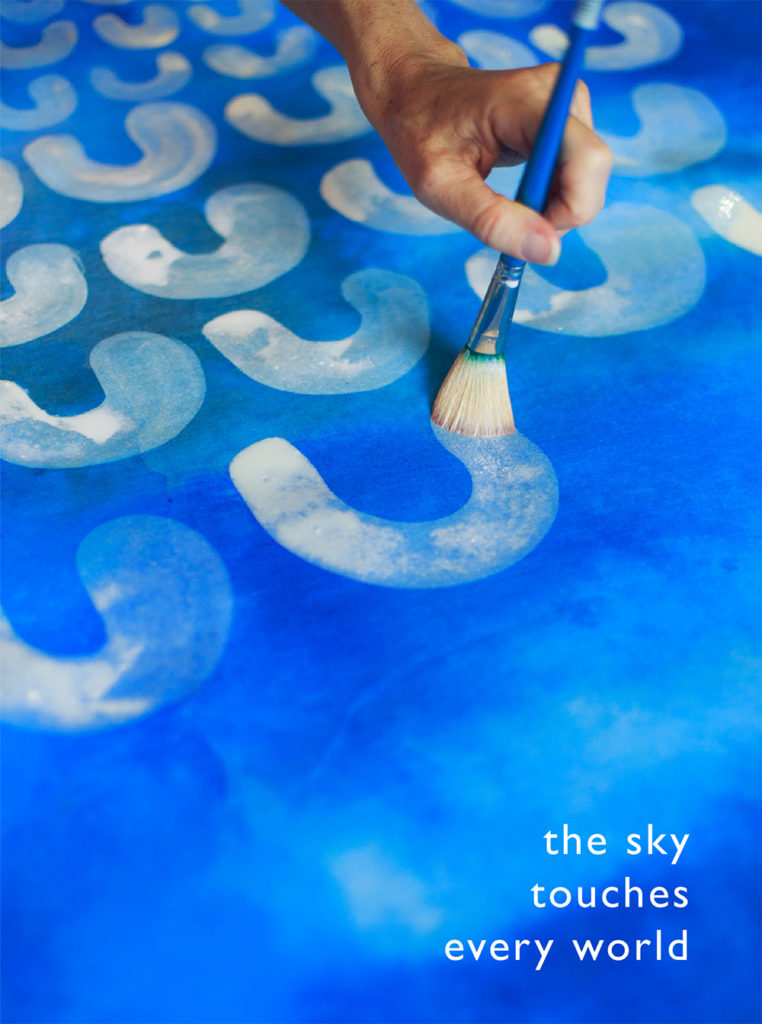 the sky touches every world  ©2014
a mixed media installation opening May 3, 2014
a.Muse Gallery
614 Alabama Street
San Francisco, California
public reception 4 – 7 pm Saturday, May 3, 2014
open by appointment May 5 – 15, 2014 call 510.654.4907
download press kit here
While walking with his aunt one day, a little boy looks up at the sky and says, "The sky touches every single world."
So profound, yet so simple.
The sky. It seems like ours, so close to this earth, so much a part of our weather, our daily life. But the sky doesn't end when it reaches the earth's atmosphere; it continues for billions of light years.
It's easy to get caught up in our everyday lives. Our own concerns become everything.
Sometimes we forget that we are more than our important work, our pressing daily tasks. We forget that life stretches far, far beyond this. And yet it's all contained in one moment.
Now is the time to remember that each moment, each mark, each breath is our true home.
 Generous support for this project was provided by
Work Alchemy business coach transforming your work life into your ideal life
Veer & Wander Apothecary and salon featuring independent and organic brands
Oilsana an essential oil routine for greater health and wellness
Midwife for Your Life purpose and success coach for women
Zen Therapeutics Massage  luxurious, holistic and affordable Reflexology, Deep Tissue, Sports and Swedish Massages
Cloud 9 Salon and the Brow Lounge, Oakland, California
The first 150 guests at the opening event will receive a gift bag of of samples, articles and special offers provided by the sponsors.
For this site-responsive installation, I am using large sheets of various lightweight materials painted or spray painted with acrylics and suspended from the ceiling. Viewers will be invited to recline on a padded platforms to view the piece, mimicking the experience of watching clouds flow by in the sky.